Mystic Falls (Yellowstone National Park)
Mystic Falls (Yellowstone National Park)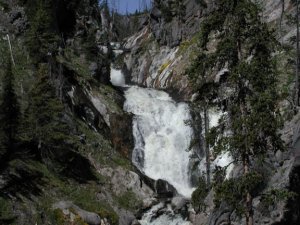 Location
How to Get There
This hike is located in Yellowstone National Park, North Western Wyoming.

To get to the trailhead: Drive south from Madison Junction for 14.2 miles. Park in the Biscuit Basin Boardwalk parking area.
Region
Yellowstone National Park
Hike details
Distance
2.40 [Miles] Total
Hike Distance- Details
2.4 miles total for the out and back.
Time-details
It took us about 2.0 hours.
Elevation Gain
600 Total Elevation Gain [Feet]
Elevation Details
About 600 ft gain.
Hike Trail Type
Out and Back
Season
Season Details
Spring to Fall. This is a good early season hike because of the low elevation.
Date Hike completed
June 05, 2002
Solitude
Solitude Details
Fair. This is a popular hike, so expect 20-30 people.
Difficulty
difficulty detail
35 yr old Recommendation: There was a happy elk that said hi to us on this hike. This is an Easy hike.
Permits
Be Aware of
Entrance fee to get into Yellowstone National Park, bear area
Hike to Mystic Falls in Yellowstone National park
From the Biscuit Basin trailhead, walk across the bridge over the Firehole river along the Biscuit Basin boardwalk. After 0.3 miles, you reach the Little Firehole Meadows trail. From here, walk 0.6 miles through the mostly open forest to the junction with the Mystic falls trail. Turn left here and walk another 0.6 miles to a good view of Mystic falls. All trail junctions are well signed.
Mystic falls is a rushing waterfall of about 60 ft. Watch the forest for animals, as we saw a good size buck Elk here during our hike.
When ready, return the way you came.
Map