Antelope Canyon (upper)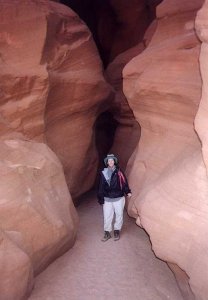 Location
How to Get There
This hike is located in the North East corner of Arizona, near the town of Page, AZ.

From Flagstaff, take US Highway 89 toward Page, AZ. Once you are near Page, look for the signs on the right side of the road that direct you to Antelope Canyon. You can also follow the signs for the power plant, as access to the canyon is also along the access to the power plant. This road is also known as HWY 98. From Flagstaff, the drive is about 1.75 hours.
addressone
Antelope Canyon
Region
Grand Canyon and Marble Canyon area
Hike details
Distance
0.50 [Miles] Total
Hike Distance- Details
1/4 mile one way
Time-details
We really stretched it to make it 45 minutes.
Elevation Change
0 Total gain/loss [Feet]
Elevation Loss
0 Total Elevation Loss[Feet]
Elevation Gain
0 Total Elevation Gain [Feet]
Elevation Details
nothing to speak of
Hike Trail Type
Out and Back
Season
Best Season
March
April
September
October
November
Season Details
We went on a mild day in December. Fall or Spring would be nice too.
Date Hike completed
December 06, 2008
Solitude
Solitude Details
During the week, we were alone. Not sure what a weekend would be like.
Difficulty
difficulty detail
While the slot canyon is spectacular, it's a pretty weenie hike. Try Wire Pass or Buckskin Gulch for more exercise with more impressive views.
Permits
Be Aware of
Flash flood danger!
Be Aware of: Flash flood danger. In August 1997, a flash flood killed 11 people in this canyon. This is an easy hike. I wasn't even winded. Bring your wallet, as this is Navajo land and the administrators of the canyon charge $15 per person for transportation to and from the Canyon.
Hike in Upper Antelope Canyon near Page, Arizona.

This was a very lazy hike through a picture perfect slot canyon that eventually feeds Lake Powell. The main attraction here are the uniquely shaped sandstone walls of the canyon. This is a good way to kill an hour or two if you're in the area.
If you're there for pictures, try reaching the canyon in the middle of the day for the best light. In winter time, late in the day, the light in the canyon is too low for good pictures.   
If you liked this, you might want to try Lower Antelope Canyon as well.
Map