Cibecue Creek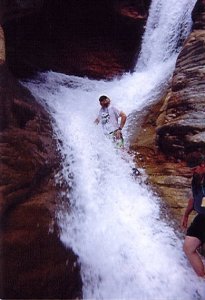 Location
How to Get There
This hike is located in the Salt River Canyon near Globe, AZ.

From the Phoenix area, take HWY 60 East towards G;lobe, AZ. Continue on HWY 60 about 40 miles to the salt river canyon. Turn downstream at the river and go another 7 miles to Cibecue creek.
Region
Phoenix Area and Central Arizona
Hike details
Distance
6.00 [Miles] Total
Hike Distance- Details
About 6.0 miles round trip
Time-details
This was an all day adventure for us
Elevation Change
200 Total gain/loss [Feet]
Elevation Details
about 200 ft.
Hike Trail Type
Out and Back
Season
Date Hike completed
January 07, 2000
Solitude
Solitude Details
Not many people on this hike, but since you need a guide, there will be about 20 people in your party. Expect to meet 20-30 people on this hike.
Difficulty
difficulty detail
Lots of fun swimming and scrambling. This is a Moderate hike. You will get wet! The rappelling is a blast too.
Permits
Permit Info
Call (928) 338-4385 for reservations and information. There is a link below to get a hiking permit (if you only want to hike to the first waterfall) online.
Be Aware of
Scrambling, swimming, rappelling, rock climbing, flash flood danger, guide required.
Hike up Cibecue Creek in Arizona.
To go any further than the first water fall on this hike (and believe me, you will want to), you will need a licensed Apache Tribe guide. Call (928) 338-4385 for reservations and information.
This is a great hike to escape the Phoenix heat in the summer. From the creek, you walk about one mile to the first water fall, which drops a good 60 feet into the creek. This creates a great swimming hole and would be a good destination if not for the even more fun beyond. With the guide's help, you will rock climb on the right side wall here and continue up the creek. Lots of swimming and scrambling leads you further up this creek with crystal clear pools. Eventually, you end up at a multi-tiered waterfall that drops 50 feet into the narrows you just emerged from.
On the way back, you repel into the canyon near the first waterfall. This place is a blast!
Map