East Clear Creek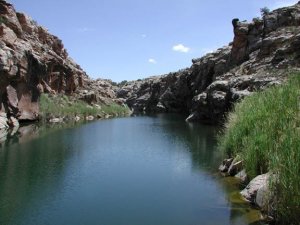 Location
How to Get There
This hike is located near Winslow, AZ.

To get to the trailhead: from the Phoenix area, take HWY-87 Northeast through Payson, Pine, and Strawberry towards Winslow, AZ. Just before reaching Winslow, turn right on HWY-99. After driving 4.4 miles, you will pass McHood Park Lake and pass over a bridge over East Clear Creek. Keep your eye out for mile marker 37. After passing mile marker 37 drive 0.3 miles and turn right next to some obvious sandstone rocks. After driving 0.2 miles on this dirt road, you will keep left at the next set of graffiti covered sandstone rocks. From here on, take the right forks and drive an additional 0.5 miles to a flat area near a drainage. You will be following this drainage into the creek.
Hike details
Distance
0.20 [Miles] Total
Hike Distance- Details
We didn't go very far because of high water levels. To get into the canyon is perhaps 0.2 miles.
Time-details
We just scrambled down and went swimming for about 1.5 hours.
Elevation Change
400 Total gain/loss [Feet]
Elevation Loss
200 Total Elevation Loss[Feet]
Elevation Details
about 200 ft down into the canyon.

Hike Trail Type
Out and Back
Season
Date Hike completed
July 10, 2004
Solitude
Solitude Details
We were alone here. Great solitude.
Difficulty
difficulty detail
30 yr old Recommendation: The swimming was fun! The hike to get into the creek is an Easy hike.
Permits
Be Aware of
route finding, swimming, FLASH FLOOD DANGER
Swimming in East Clear creek, Arizona
The route finding could be a little tricky here. We didn't have much trouble finding an easy scramble route down a drainage into the canyon. The rest of the canyon looks to be sheer 200 ft cliff walls, so be aware of flash flood danger in this canyon.
According to Tyler Williams, you can hike and swim upstream at least four miles. When we came here on a hot day in July, the water was much too high for anything except swimming. So we entertained ourselves jumping off rocks into the deep pool and swam.
Bring your swim suit (or not!) and enjoy the cool, refreshing dip.  
Map