Yeager Canyon
Hot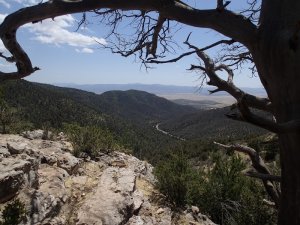 Location
How to Get There
This hike is located near Prescott, AZ.

To get to the trailhead: from the Phoenix area, take I-17 North toward Flagstaff. At Cordes Junction, take HWY-69 towards Prescott. On the way to Prescott, turn right onto signed Fain road. When you reach the junction for HWY-89A, turn right towards Jerome. Take 89A to mile marker 333. Just after mile marker 333, there is a guardrail with an elevation marker for 6000 ft. Just after the guardrail, there is a pull out and a difficult to see road that hairpins down on the right side. Vehicle access for this road is blocked now but there is parking at this pull out on the right.
Hike details
Distance
6.10 [Miles] Total
Hike Distance- Details
The loop described is 6.1 miles round trip.
Time-details
It took us 3.0 hours of hiking.
Elevation Change
2,200 Total gain/loss [Feet]
Elevation Gain
1,200 Total Elevation Gain [Feet]
Elevation Details
about 1200 ft gain and loss.
Season
Season Details
Spring, Summer, Fall
Date Hike completed
May 19, 2013
Solitudue
Solitude Details
Excellent solitude on this hike. We only saw two other hikers on a Sunday.
Difficulty
difficulty detail
There are very few hikers to share this trail with and the hike is close to the valley. We enjoyed this hike very much as a result. This hike is rated Moderate because of some elevation gain.
Permits
Be Aware of
Mountain bikes, route finding.
Hike through Yeager Canyon near Prescott, Arizona.

Everything changes... including hikes. Some change for the worse, but thankfully, the Yeager canyon loop hike changed for the better. When we did this hike 10 years ago, the trails were difficult to find and the trail junctions were poorly marked, making route finding a real challenge. Now all the trail junctions are signed and as a result, this hike is much more enjoyable. You can take this loop hike in either direction. We chose clockwise so the write up reflects this.
After walking down the now closed road from where you parked, quickly look to your left. You will see the signed trail 28 (also known as the Yeager Canyon trail) that runs parallel to HWY-89A for a while. This trail is well worn and easy to follow. After about 0.4 miles, the trail goes through a fence (marked Fence on the map) and then starts to climb. The views on this climb are impressive, so turn around and look over your shoulder once in a while for good views of Prescott and Prescott Valley, along with the Mingus mountain forests. After 1.8 miles of total hiking, you'll reach the signed trail junction with trail #111 (JCT 1R on the map). If you stayed left here, you would pop out on a forest road (Allen Springs Rd), so stay right here and continue hiking on trail #111 (also known as the Yeager Cabin trail). After 0.1 miles, stay right at the signed trail junction with trail #530 to stay on Trail 111. This is the most enjoyable part of the hike, as you are hiking through shady forests of oak and pine. This trail goes up and down about 1.5 miles until you reach FR105. Walk along FR105 South West for 0.2 miles to the signed trail junction with trail #533 (also known as the Little Yeager Canyon trail). You'll go through another gate and begin the descent back to the start of the hike. This section of trail also switches back down the mountain and provides more good views, so be sure to look around. As you near HWY-89A, you'll need to use those route finding skills a bit, as this area has seen some damage from littering and off road vehicles in the past. Hopefully you don't have too much trouble and are able to find your way back to the start.
Keep an eye out for mountain bikes on this trail. They especially like the downhill stretch on Trail #533.
Map