Mount Francis
Hot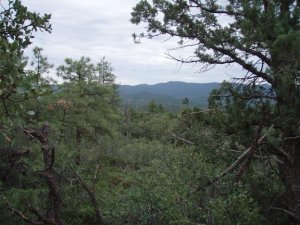 Location
How to Get There
This hike is located near Prescott, AZ.

To the Trailhead: From the Phoenix area, take I-17 to the junction of HWY-69. Turn left onto HWY-69 towards Prescott. At the intersection between HWY-89 and HWY-69 towards the town of Prescott, turn left (HWY-69) and head towards the town of Prescott on Gurley Street. When you reach downtown Prescott, you'll arrive at the intersection with Montezuma Street (HWY-89 South). Turn South (left) onto Montezuma Street. After about 1 mile on this road, turn right onto signed Cooper Basin Road. Take Cooper Basin Road for 4.7 miles (the first 3 miles are on pavement, the final 1.7 miles is on good graded dirt road) to the signed trailhead parking for Aspen Creek on your right. The trailhead is across the road from the parking lot and has a small trail sign marking it (TR #48).
Hike details
Distance
7.70 [Miles] Total
Hike Distance- Details
7.7 miles for the loop hike described.
Time-details
It took us 3 hours and 45 minutes.
Elevation Change
1,600 Total gain/loss [Feet]
Elevation Gain
800 Total Elevation Gain [Feet]
Elevation Details
about 800 ft.
Season
Season Details
Late Spring to Early Fall.
Date Hike completed
August 14, 2011
Solitudue
Solitude Details
Not bad. We shared this hike with two hikers and two mountain bikers.
Difficulty
difficulty detail
The views were great and well worth the effort, although the route finding was tricky. This is a moderate difficulty day hike primarily due to the route finding.
Permits
Be Aware of
Mountain bikes, route finding, Possible ATVs
Hike to the top of Mount Francis near Prescott, Arizona.

Starting from the Aspen Creek trailhead parking, there are several trailheads that begin here. The one we are interested in is actually across the street from the parking area and is signed as TR #48. The easy to follow trail climbs quickly from here through some shaded forest. After about 15 minutes of hiking, the single track trail will intersect with a closed road. Turn right here (Jct 1R on the map) continuing to follow the trail signs for TR #48. After another 0.2 miles of walking along this closed road, you'll reach another signed trail junction (Jct 2R on themap). Turn right here, continuing to follow the signs for FR #48. This section of the trail passes to the East of Mount Francis (you can see it once in a while on your right, it has the antenna on top) and provides impressive views of the Bradshaw mountain range to the East. 
After about 3.4 total miles of hiking, you'll reach the signed junction with TR #260 (TR260 R on the map). This is actually a 4WD road, only accessible by ATVs. Turn right here and stay right onto the dirt road. The road will steadily climb up towards Mount Francis and the visible antenna towers. After about 0.6 miles along TR #260 you will pass East Copper spring, which is a small cement tank of water on your right. Finally, you will reach an intersection with several dirt roads and a gate (Gate 2 on the map).
Go through the gate that prevents vehicles from entering and head towards the top of Mt Francis. First you'll pass a small building with an antenna tower on it on your right (remember this point) Continue on the main dirt road that winds up to the top of the second set of towers. You'll peak out at 7100 ft and you earn the views of Granite mountain, Thumb Butte, Prescott, the Bradshaws, and forest for as far as the eye can see. Unfortunately you have to share the views with the towers.
When ready, backtrack to the first small building mentioned earlier. Take the dirt road to your right that leads under the power lines. As a special treat, you'll pass some Aspen at these heights. After about 0.2 miles, you'll reach an unmarked junction with a dirt road. You'll want to turn right here. We missed this turn and passed through a gate and ended up on FR 9402D, which turned out to be a pretty, Aspen lined dirt road. This lead us eventually back to Copper Basin Road and to the trailhead. Hopefully you don't miss this turn and instead you'll end up on closed 4WD road 9406X (shown in blue on the map), which will take you more quickly back to the trailhead.
Map