Woodchute trail
Hot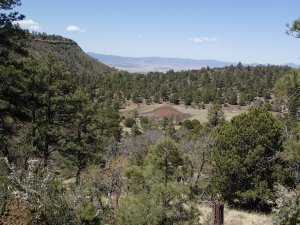 Location
How to Get There
This hike is located near Prescott, AZ.

To get to the trailhead: from the Phoenix area, take I-17 North to Cordes Junction. Take HWY-69 towards Prescott here. Turn right on Fain Road and then take another right when you reach the turn off for HWY89A towards Jerome. About 10 miles before you get to Jerome, you will reach the highest elevation and on your right will be a sign for the Mingus mountain recreation area. Turn left on the unsigned road and drive towards the Potato Patch campground. You will follow the signs to the Woodchute Trail #102. After about 0.3 miles, turn left and the road will soon turn to a well graded dirt road. You will see a parking area and a green gate beyond. Continue an additional 0.7 miles on this relatively good dirt road to the well signed trailhead for Trail #102. It looks like that during some times of the year, this road may be closed.
Hike details
Distance
6.80 [Miles] Total
Hike Distance- Details
6.8 miles round trip.
Time-details
It took us 3.0 hours hiking to complete this hike, with a 20 minute stop to have lunch and enjoy the views.
Elevation Change
800 Total gain/loss [Feet]
Elevation Gain
800 Total Elevation Gain [Feet]
Elevation Details
About 800 ft elevation gain.
Hike Trail Type
Out and Back
Season
Best Season
April
May
June
July
August
September
Season Details
Fall and Spring are best.
Date Hike completed
May 12, 2013
Solitudue
Solitude Details
Fair. Expect 10-20 other hikers/climbers in this area.
Difficulty
difficulty detail
Medium effort climb to great views. This is an easy hike.
Permits
Be Aware of
Equestrians like this trail, so please be kind to the horseback riders.
Hike along the Woodchute trail near Prescott, Arizona.

From the well marked parking area, take signed TR#102 towards Woodchute mountain. This trail follows the ridgeline of the mountain for most of it's length. From your right, views of the red rock of Sedona, the San Francisco Peaks, and the town of Cottonwood peak out from the forest. The first section of this hike is recovering from a burn, so the vegetation allows for more views. However, pine trees soon close in around the easily followed trail.
After 1.9 miles of hiking, you'll reach a signed trail junction (JCT 1R on the map) with the Rick tank cut off trail. Stay right here to continue on the Woodchute mountain trail. After 3.1 miles of total hiking, you'll reach an unsigned trail junction. To the left, the Woodchute mountain trail continues until it eventually reaches FR318A. Instead, we'll go right and walk an additional 0.3 miles to a wonderful viewpoint. This is an excellent place for a snack and a break before turning around to head back.
Return by the same route. 
Map