White Canyon
Hot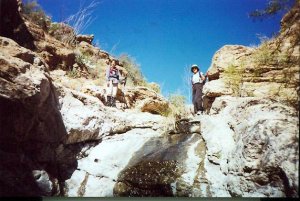 Location
How to Get There
This hike is located near Superior, AZ.

From the Phoenix area, take US-60 East to the town of Superior. Once in Superior, take HWY-177 South 9.6 miles to Battle Axe Road (on right). It's a 4.5 mile drive on a dirt road to the trailhead. A high clearance vehicle is recommended. After 1.6 miles, stay right at the fork at the coral. At 1.9 miles, stay right again at the fork. After 3.3 miles, there is a narrow spot in the road, just after a cattle guard. After 3.8 miles, stay right again (to the left is a pretty neat spring). After 4.5 miles, leave the main dirt road and turn right. Drive the short distance (staying left) to a small turn around. Park here and start walking along the trail next to the brown Wilderness trail marker to the trail register (about 100 yards from the parking area).
addressone
Battle Axe Road
Region
Tucson Area and Southern Arizona
Hike details
Distance
7.00 [Miles] Total
Hike Distance- Details
3.5 miles to the turn around point.
Time-details
We hiked a total of 5 hours plus 30 minutes for lunch.
Elevation Change
200 Total gain/loss [Feet]
Elevation Gain
100 Total Elevation Gain [Feet]
Elevation Details
change: maybe 100 ft gain... not much
Hike Trail Type
Out and Back
Season
Best Season
March
April
September
October
Season Details
Fall, Winter, and Spring (Fall/Spring probably the best seasons)
Date Hike completed
March 02, 2002
Solitudue
Solitude Details
Excellent hike for those of us seeking solitude. During our hike, we only ran into 8 other hikers.
Difficulty
difficulty detail
While it's not a great distance, the walking is slow because of the bolder hopping and trail finding. The canyon is a nice location for a hike. This is a medium difficulty hike.
Permits
Be Aware of
Scrambling, bolder hopping, trail finding
Hike up White canyon near Phoenix, Arizona.

Map
Move Map