Red Creek
Hot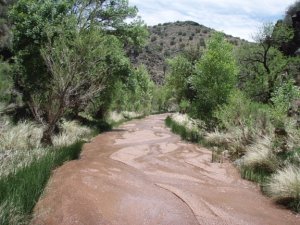 Location
How to Get There
This hike is located near Black Canyon City, AZ.

From the Phoenix area, drive Scottsdale Road North until you reach the intersection with Cave Creek Road. Turn right onto Cave Creek road and stay on this road for another 35 miles. The road will be paved for a good portion of the drive, but it will become dirt road FR24 at some point. FR24 is a well graded dirt road. After reaching the intersection with FR269 (Bloody Basin Rd), turn right and go 2.8 miles towards Sheep's Bridge and the Verde River. At the intersection with FR18, turn left onto this rocky road (you'll want to use a high clearance vehicle) and drive it another 2.3 miles until you can see the canyon formed by Red Creek. Park here (there's really no reason to drive down to the creek) and start hiking towards the creek.

Alternate Entry: From the Phoenix area, take I-17 North to the Bloody Basin exit (#259). This road (FR269) is a good graded dirt road. Bloody Basin road crosses the Agua Fria river, but the river is either low or dry most of the year and the crossing is paved. Drive 27.8 miles on this road until you reach the junction with FR18. Turn left on FR18 (rocky, but OK with a high clearance vehicle) and drive 2.3 miles to the start of the hike.
Region
Superstition and Mazatzal Wilderness
Hike details
Distance
8.00 [Miles] Total
Hike Distance- Details
8.0 miles round trip.
Time-details
It took us five hours with a 20 minute stop for lunch.
Elevation Change
500 Total gain/loss [Feet]
Elevation Details
about 500 ft gradual decent
Hike Trail Type
Out and Back
Season
Best Season
January
February
March
April
October
November
December
Date Hike completed
January 05, 2010
Solitudue
Solitude Details
Good news, we didn't see another hiker all day. Bad news, we had to share the hike with a 4WD jeep for a few moments.
Difficulty
difficulty detail
The scenery here reminds me of Aravaipa without the need for a permit. This is a Moderate difficulty hike.
Permits
Be Aware of
rock hopping, long drive on dirt roads to get to the hike, may have to share with the 4WD folks
Hike along Red Creek near Phoenix Arizona.
The hike along Red Creek reminded me of hiking through Aravaipa Canyon. Large Cottonwood and Sycamore trees provide shade as you follow a perennial creek all the way to the Verde River. It's a beautiful place.
One of the nice things about this hike is you are very likely to have this hike to yourself, as this is a remote, hard to reach place. You'll need to travel at least 30 miles on dirt roads to get to the start of the hike. Unfortunately for us hikers, there are a few brave 4WD folks that like to try their luck at navigating their jeeps down the same route. National forest planning suggests the near future may bring a closure of this area to vehicles, so hiking may be the only way in.
From FR18, walk down the short, rocky downhill section of this road to Red Creek. Turn right at the creek, as you will be hiking downstream towards the Verde River. You can follow FR18 along the length of this creek, as sometimes it represents the easiest route. Other times, FR18 goes right down the flat creek itself. Expect many creek crossings and some rock hopping. Luckily, the creek is very shallow, so keeping dry is easy. The first three miles of this hike you'll be alternating walking under shade, along a rough jeep road, or rock hopping along a shallow creek.
This is a potentially great place to see wildlife too. We saw plenty of animal tracks in the soft sand next to the creek. We were even treated to views of the rare Gila Monster lizard.
As you get closer to the Verde River, the area opens up and the creek may move underground in spots. The shade goes away until you reach the shores of the Verde River. The Verde is a good place to stop and sit under some shade to enjoy lunch as you watch the lazy river drift by.
Just before reaching the Verde River, if you look to your right you may notice a bright orange wind sock on the South bluff of Red Creek. This marks the location of a remote airfield, which is worth exploring if you have the time and energy. It's location is marked on the map.
When you're ready, return the way you came.
Map