Lost Dog Wash Trail
Hot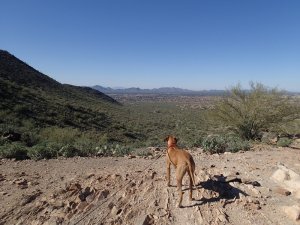 Location
How to Get There
This hike is located near Scottsdale, AZ.

From the Phoenix area, take state HWY-101 North to the Shea Boulevard exit. Take Shea Blvd East (right) until you reach the intersection of Via Linda. Turn left onto Via Linda. Take Via Linda to 124th street. Turn left onto 124th street and the signed Lost Dog Wash trailhead. Drive the short (perhaps 0.4 miles) distance to the end of the road and large signed trailhead parking area. There is water and restrooms here.
Region
Phoenix Area and Central Arizona
Hike details
Distance
5.20 [Miles] Total
Hike Distance- Details
5.2 miles for the lollypop loop hike described (with side trip to the Taliesin Overlook)
Time-details
It took us 2 and a half hours.
Elevation Change
400 Total gain/loss [Feet]
Elevation Details
about 400 ft gain.
Hike Trail Type
Lollypop Loop
Special Features
Wild Flowers
Season
Best Season
January
February
March
April
October
November
December
Date Hike completed
February 17, 2013
Solitudue
Solitude Details
This is a very popular trail. Expect to share it with perhaps 100 other hikers.
Difficulty
difficulty detail
This is a lovely stroll through the desert and is especially nice during wildflower season. This is an Easy hike.
Permits
Be Aware of
Crowds, mountain bikes, lots of dogs.
Hike the Lost Dog Wash trail in Phoenix Arizona.
This hike is located in the McDowell Mountain preserve area and features an easy to follow trail with clearly signed trail junctions through the Sonoran Desert.
From the parking area, head north towards the building. There is a restroom and water fountain here, but you should still bring your own water while hiking. The well signed (Lost Dog Wash trail) and easy to follow trail starts North from this building. After the first 0.2 miles of hiking, there is a signed trail junction with the Sunrise Trail. Stay left here (JCT 1L on the Map). After another 0.3 miles of hiking, you'll reach the signed trail junction with the Ringtail Trail. This will be our return route, so stay left here (Jct 2L on the map). The trail gently increases in elevation as you walk through a typical sonoran desert, complete with Saguaro, Barrel, and Cholla cactus. The trail leaves the sights of the city behind as to your right you have unobstructed views of the McDowell mountains. After 1.5 miles of total hiking you will reach another signed trail junction. If you want to make this hike a bit longer (like we did) turn left here and hike the 0.5 miles to the Taliesin Overlook. This overlook gives a very nice view of the North Scottsdale area, including Taliesin West, once winter home of Frank Lloyd Wright (and worth visiting if you get a chance). Backtrack the 0.5 miles to the junction and this time continue East (stay left at the junction).
After 1.4 miles of hiking from the previous trail junction, you'll reach the signed junction with the Ringtail trail. Turn right here (JCT 3R on the map) and briefly climb 0.2 miles to the Lost Dog Overlook. This overlook isn't as impressive as Taliesin Overlook, but it still gives a nice view. Continue another 0.5 miles to the junction with the Lost Dog Wash Trail (Jct 1L) and turn left here to walk the 0.5 miles back to the trailhead and parking area.
There are a few mountain bikers that enjoy this trail, so be on the lookout for them. Also, this is a very popular trail for dogs, so if you enjoy hiking with dogs, you will enjoy this hike.
For more information about the McDowell Sonoran Preserve, follow this link to the City of Scottsdale website with details about the preserve.
Map