Metate-Spur Cross Loop (Spur Cross)
Hot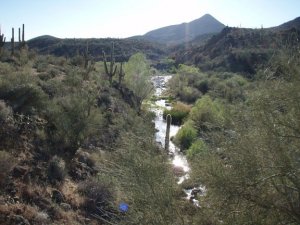 Location
How to Get There
This hike is located near Cave Creek, AZ.

To get to the trailhead: from the Phoenix/Mesa area, take I-17 North to the Carefree Hwy exit. Take the Carefree Highway East about 8.5 miles to Cave Creek Road. Turn left onto Cave Creek Road and drive about 2.7 miles to Spur Cross road. Drive North on Spur Cross road about 4.5 miles, with the last 1.5 miles being graded dirt road. The dirt road is in very good shape and is OK for passenger cars. As of March, 2012, there is a $3 fee to enter the conservation area. There are restrooms at the trailhead, but no water.
Region
Phoenix Area and Central Arizona
Hike details
Distance
2.40 [Miles] Total
Hike Distance- Details
The loop hike described is 2.4 miles.
Time-details
It took us just under an hour
Elevation Change
100 Total gain/loss [Feet]
Elevation Details
Pretty flat
Season
Best Season
January
February
March
April
October
November
December
Season Details
Recommended after a rain in the spring/fall for the wildflowers.
Date Hike completed
March 23, 2012
Solitudue
Solitude Details
This is a pretty popular hike. Expect to share the trail with 25-40 other people.
Difficulty
difficulty detail
This is a flat and easy hike... a good introduction to new hikers.
Permits
Permit Info
$3 to park (as of April 2007)
Be Aware of
Fee for parking
Hike the Metate Spur Cross loop in Spur Cross, Arizona.
The Spur Cross Ranch Conservation area is one of the newer members of the Maricopa County Park system. The conservation area borders the Tonto National forest to the North and provides an accessible area for hikers to enjoy this still pristine desert. The parking area is a few hundred yards away from the actual trailhead and restrooms.
There are several trails in this area. One short, easy, and enjoyable walk is the Spur Cross (Maricopa Trail) to Metate Trail loop.
This trail starts out on the Spur Cross (Maricopa Trail) by following the right fork at the restrooms. This section of the hike is easily followed as you walk along an old jeep road through the Sonoran Desert. After about 1.1 miles of hiking, you'll reach the signed junction for the Metate trail. Make a left here and go through the open fence. If you cross the creek you've missed the turn and gone too far.
This easy to follow section of trail backtracks much closer to Cave Creek, which is frequently flowing with a little water. There are some impressive Saguaro here and the trail is a bit more secluded and scenic. You'll pass some evidence of old homesteading in the area as well as crossing the creek two more times before reaching the parking area and the start of the hike. 
Map