Ken Patrick Trail
Hot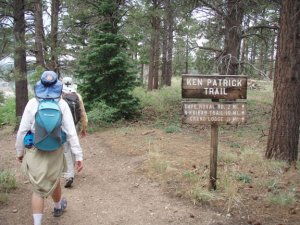 Location
How to Get There
This hike is located at the North Rim of Grand Canyon National Park.

From Jacob Lake, take US Highway 67 South towards the North rim of Grand Canyon National park. Once in the park, drive 9.5 miles to the signed junction with the Cape Royal road and Point Imperial and turn left (East). Drive 5.4 miles to the signed junction and turn left towards Point Imperial. The Point Imperial parking and trailhead is another 2.7 miles of driving.

The trail passes the Cape Royal Road about a mile from the junction of the Cape Royal road and the road to Point Imperial (if you make it that far).
addressone
North Kaibab Trail Head
Region
Grand Canyon and Marble Canyon area
Hike details
Distance
3.00 [Miles] Total
Hike Distance- Details
3 miles one way to Cape Royal road... although the trail goes 10 miles total to the North Kaibab trailhead.
Time-details
It took us two hours of hiking to go about half way and back track to the parking area. We turned back when the Mexican Locus got too thick.
Elevation Change
0 Total gain/loss [Feet]
Elevation Details
Not much
Hike Trail Type
Out and Back
Season
Date Hike completed
July 17, 2011
Solitudue
Solitude Details
Excellent. We only saw two other hikers on this trail.
Difficulty
difficulty detail
Be Aware of: $25 to enter the park (as of July 2011). Bushwhacking.

30 yr old Recommendation: This would be a great hike with some trail maintenance. Unfortunately, the Mexican Locus thorns prevent this hike from being very enjoyable to go all the way through. This is an Easy hike if you turn around when we did.
Permits
Be Aware of
$25 to enter the park (as of July 2011). Bushwhacking.
If a short, easy hike to some great views of the North Rim of the Grand Canyon appeals to you, this is your hike.
The Ken Patrick trail runs from Point Imperial all the way back to the North Kaibab trailhead. We planned on hiking the short three mile section from Point Imperial to the Cape Royal road. Unfortunately, there was a fire in this area. The result is that Mexican Locus bushes (with thorns) have encroached on the trail and it becomes a miserable and painful bushwhack. Until then, the views of mount Hayden are particularly impressive and you can see marble canyon and Nankoweap canyon from the trail.
We hiked about half way before the bushwhacking persuaded us to turn around. Someday the park service will get around to clearing out this trail again. We will wait patiently for that day.  
Map