Phantom Creek
Hot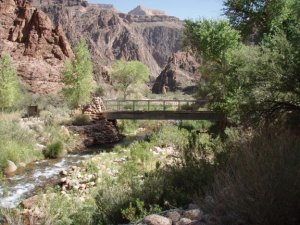 Location
How to Get There
This hike is accessed from a river rafting trip on the Colorado River. This canyon is located at river mile 88 on river right. Alternatively, you can hike in via the Bright Angel trail or the South Kaibab trail.
Region
Grand Canyon and Marble Canyon area
Hike details
Distance
4.00 [Miles] Total
Hike Distance- Details
4.0 miles round trip (to the first waterfall and back)
Time-details
It took us about 2.0 hours total.
Elevation Change
400 Total gain/loss [Feet]
Elevation Gain
200 Total Elevation Gain [Feet]
Elevation Details
About 200 ft gradual ascent from the river.
Hike Trail Type
Out and Back
Season
Best Season
March
April
October
November
Season Details
Spring, Summer, Fall.
Date Hike completed
October 01, 2007
Solitudue
Solitude Details
Not so good until you reach Phantom creek. This corridor is among the most heavily traveled hiking area in the entire Grand Canyon area. Once you get into Phantom creek, the crowds will thin significantly.
Difficulty
difficulty detail
If you're changing crews at Phantom Ranch or have some free time in this area, this hike is a good, easy way to stretch your legs.
Permits
Be Aware of
Walking in water, rock hopping.
Hike up Phantom Creek in Grand Canyon national Park, Arizona.
So you're at Phantom ranch waiting for the next group of rafters to hike down so you can continue your river trip. Or perhaps you've hiked down the Bright Angel trail, camped at Bright Angel Campground, and you're looking for a short hike to explore the area. Here's a good way to stretch your legs and still enjoy some nice scenery without too much climbing.  
Phantom creek feeds the Bright Angel creek year round. To reach Phantom creek, hike up the boat beach towards Phantom ranch. Past the ranch, you'll stay on the well worn (and popular) North Kaibab trail. This trail heads north through an area known as 'the box' because the canyon narrows significantly and the trail crosses the creek a few times while staying high off the river. Once the trail heads back down to river level, look on your left for a creek entering the canyon. There is a brushy trail up Phantom creek to a small waterfall. Scrambling up the boulders to your left will allow you to continue your exploration, but we were short on time so we turned around here.
Map