Fay canyon and arch
Hot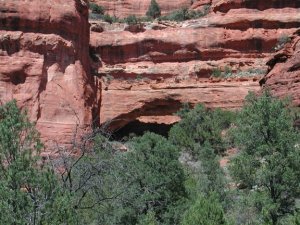 Location
How to Get There
This hike is located near Sedona, AZ.

From the Phoenix area, take I-17 North to exit 298 to HWY 179 West into Sedona. Follow the signs to 89A West. Turn right 3.1 miles after the junction on Dry Creek Road. When you reach the intersection of 152C, turn left and go another 1.6 miles. At Boynton Pass road, turn left and go the final 0.5 miles to a parking area.
Hike details
Distance
1.00 [Miles] Total
Hike Distance- Details
1.0 miles round trip.
Time-details
It took me about an hour.
Elevation Change
300 Total gain/loss [Feet]
Elevation Details
about 300ft elevation gain
Hike Trail Type
Out and Back
Season
Date Hike completed
January 04, 2004
Solitudue
Solitude Details
This is a popular hike and the parking lot will be crowded. Expect to meet 15-30 people on this hike during a weekend.
Difficulty
difficulty detail
Relaxing and mellow hiking. This is an Easy hike. This hike is a good introduction to the Sedona area and good for beginners.
Permits
Permit Info
Red Rocks parking pass required. $5 per vehicle (as of April 2004)
Be Aware of
pay to park, crowded parking
short and easy stroll to a neat natural arch through a pretty canyon
Sedona has recently instituted a "Red Rock Pass", which is a fancy way of saying you need to pay to play. As of April 2004, the fee is $5 per day per vehicle. There are plenty of places in and around Sedona to pay this fee and get the receipt, which you need to put on your vehicle dash to keep from being towed.
This well marked trail heads through a shady canyon to start. After about 0.5 miles on this flat trail, keep your eyes on the canyon right to see the natural arch. A reasonably well marked trail starts off here to the arch. The arch requires a short scramble to climb up on top. Watch your step! 
After admiring the arch, continue up the last 0.5 miles to the end of the canyon. Please respect any ruins or artifacts you see.
After this hike, you'll most likely be looking for another one in the area... I know I was. 
Map