Pumphouse Wash
Hot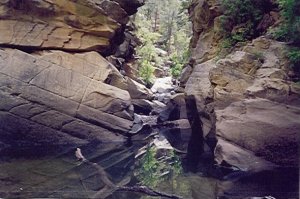 Location
How to Get There
This hike is located near Sedona, AZ.

From the Sedona area, take HWY 89A towards Flagstaff and up the Oak Creek Canyon. 14 miles from Sedona is the downstream entrance to Pumphouse wash (near milepost 387, just before the bridge). If you continue up HWY 89A to milepost 391.5, you can turn right onto FR237 and drive 1.5 miles to the upstream entrance to Pumphouse wash.
Hike details
Distance
7.00 [Miles] Total
Hike Distance- Details
3.5 miles one way.
Time-details
It took us five hours with a 30 minute stop for lunch.
Elevation Change
700 Total gain/loss [Feet]
Elevation Details
about 700 ft gradual gain
Hike Trail Type
Out and Back
Season
Date Hike completed
January 07, 2000
Solitudue
Solitude Details
Not many people on this hike. Expect to meet no more than 6 people on this hike during a weekend. The further you go up or down the canyon, the fewer people you'll find.
Difficulty
difficulty detail
Lot's of bolder hopping, and cool pools of water. It's a fun hike for those of us that don't need a flat, well marked trail. You control how long you want to hike. This is a Moderate hike.
Permits
Permit Info
Red Rocks parking pass (as of April 2005, $5 per vehicle)
Be Aware of
scrambling, swimming, boulder hopping, route finding, flash flood danger
Hike through Pumphouse wash near Sedona, Arizona.
This is a good canyon hike in the summer months. Don't be frustrated on the slow progress due to the boulders and route finding, enjoy it. There's occasional pools to cool off in or scramble around. You can go as far as you want and turn around, or you can find a buddy to shuttle you from one end to the other after your hike.
In some parts of this canyon, the walls surrounding you are 1000 feet high. Scrambling around and over boulders is fun! 
Map