Harding Spring and Cookstove
Hot
December 03, 2011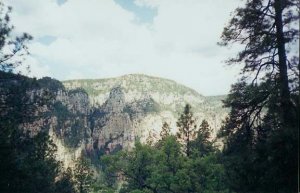 Location
How to Get There
This hike is located in Oak Creek Canyon, which is just North of Sedona, AZ.

From the Phoenix area, take I-17 North to exit 298 to HWY 179 West into Sedona. Follow the signs to 89A North and park along side the road near mile marker 387 The trailhead is on the East side of the road.
Hike details
Distance
5.00 [Miles] Total
Hike Distance- Details
5 miles round trip.
Time-details
It usually takes us three hours with a 30 minute stop at the top for views and lunch.
Elevation Change
1,200 Total gain/loss [Feet]
Elevation Details
about 1200 ft ascent to the East Canyon Wall of Oak Creek
Season
Best Season
May
June
July
August
September
October
Date Hike completed
January 05, 2000
Solitudue
Solitude Details
One nice thing about Sedona is not many tourists make it past the shopping. Expect to see 3-7 other people on a weekend.
Difficulty
difficulty detail
Short semi-steep climb to great views in quiet, cool Sedona. Good for those looking for solitude. This is a Moderate hike.
Permits
Permit Info
Red Rocks parking pass ($5 as of April 2004)
Be Aware of
Short Steep climb. Careful about crossing HWY 89A, fee to park
semi-steep climb to nice views of the Oak Creek Canyon
Sedona has recently instituted a "Red Rock Pass", which is a fancy way of saying you need to pay to play. As of May, 2002, the fee is $5 per day per vehicle. There are plenty of places in and around Sedona to pay this fee and get the receipt, which you need to put on your vehicle dash to keep from being towed.
From the Cookstove trailhead, it's just under a mile to the top of the East wall of Oak Creek Canyon. The top is a nice place to spend lunch, sitting on rocks and looking at the cool rock formations of the West wall of the canyon. Good views abound.
The hike continues south along the ridge of the canyon through a sparse forest of pine. The trail here is flat and the canyon views pop out once in a while. After about two miles, you reach the Harding Spring trail. Follow the trail back down to HWY 89A and walk the final 1.3 miles back to your car on the shoulder of the Highway.
Map