Silly Mountain
Hot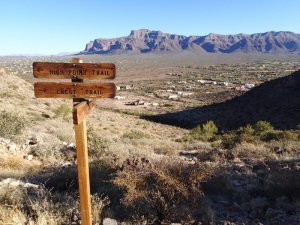 Location
How to Get There
This hike is located in the Superstition Wilderness East of the Phoenix area.

From the Phoenix area, take US-60 East, leaving the city limits. You'll notice Silly Mountain Road on your left, but you can't reach it from the East side of the highway. Make a U-Turn at one of the left turn lanes and backtrack to Silly Mountain Road. The easily spotted parking area is a short distance along the road on your right. The trailhead has a restroom, but no water.
Region
Superstition and Mazatzal Wilderness
Hike details
Distance
2.50 [Miles] Total
Hike Distance- Details
2.5 miles loop
Time-details
It took us an hour and a half of easy walking to complete the loop hike
Elevation Change
400 Total gain/loss [Feet]
Elevation Details
about 400 ft of elevation change
Season
Best Season
January
February
March
April
October
November
December
Date Hike completed
January 13, 2018
Solitudue
Solitude Details
This is a very popular hike. Don't expect much solitude here. Expect to meet 50-100 people hiking on these trails during a weekend.
Difficulty
difficulty detail
The hiking is easy and with the multitude of trails you can customize your hike to the distance you're interested in walking.
Permits
Be Aware of
Some route finding
Hiking in the Silly Mountain park are of Apache Junction near the Superstition wilderness, Arizona.
Anyone who has driven the US-60 East of the metropolitan Phoenix area has seen Silly Mountain off to the left and wondered if it had hiking trails. It turns out there are a number of hiking trails around the Silly Mountain area and they are very popular with the locals. We chose a 2.5 mile loop around the outside of the area that made for an easy walk.
From the parking area, take the trail heading to the right (Brittle Brush trail). This trail gains elevation gently up towards an old mine and the junction with the Old Mine Trail. Turn right here. This trail climbs up to Sunset Saddle and good views, but if you take the spur trail to your left you can get to the Silly Mountain Saddle with even better views. Backtrack to the Crest Trail and continue East. The next trail junction reached is with the Huff and Puff trail. Stay right here to hike the Old Baldy Trail. At the next intersection, you'll stay right on the Coyote Loop trail as it skirts the left side of Kings Crown. The trail loops back onto the Superstition Views trail, which features the best views of the Superstition Wilderness on the hike. Stay on this trail until you reach the Superstition View point and the trail junction with the Palo Verde trail. Take the Palo Verde trail back to the parking area.
The nice thing about having so many trails is the ability to customize your hike to the time/distance you want. Enjoy this hiking area!
Map