Lost Goldmine Trail
Hot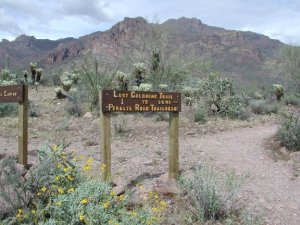 Location
How to Get There
West Trailhead: From the Phoenix area, take US-60 East, leaving the city limits. After leaving Apache Junction, continue about 3 miles, turning left onto Kings Ranch Road. This is paved most of the way as you pass by Gold Canyon Ranch. Drive 2.7 miles on Kings Ranch Road and turn right on Baseline Avenue. After 0.2 miles, you'll turn left onto Mohican Road. After 0.2 miles, turn left onto Valley View Road. This road will soon turn into Valley View Road, then into Whitetail road. Follow this road for 0.6 miles to Cloudview Road. Turn right onto Cloudview road and drive 0.5 more miles to the parking area.

East Trailhead: From the Phoenix area, take US-60 East, leaving the city limits. After leaving Apache Junction, continue about 8.5 miles, turning left onto Peralta Road (FR 77). After starting out as a paved road, this quickly turns into a maintained dirt road. The signed trailhead for the Lost Goldmine trail is on your left after about 7 miles of driving on this road. There is ample parking and the trailhead is well signed.
Region
Superstition and Mazatzal Wilderness
Hike details
Distance
5.70 [Miles] Total
Hike Distance- Details
The hike described is 5.7 miles one way from the East (Peralta Road) trailhead to the West (Hieroglyphic canyon) trailhead.
Time-details
It took us 2.0 hours to complete this hike.
Elevation Change
200 Total gain/loss [Feet]
Elevation Details
About 200 ft elevation gain. There is some up and down along the hike.
Hike Trail Type
One way - Shuttle
Special Features
Wild Flowers
Season
Best Season
January
February
March
April
October
November
December
Date Hike completed
November 23, 2012
Solitudue
Solitude Details
Outstanding once you leave the trailhead areas. We only saw two other hikers the entire time.
Difficulty
difficulty detail
This relatively flat hike would make a good introduction to the Superstition Mountain Range. This one way hike described here is an easy hike.
Permits
Be Aware of
limited parking at West trailhead, Car shuttle
Hike the Lost Goldmine trail in the Superstition Wilderness, Arizona.
Before you start this hike, make sure you've dropped a car at the Hieroglyphic Trailhead (West trailhead), unless you want to make this a long out and back hike.
From the well signed trailhead, you'll head west along an easy to follow trail. There is some routefinding here, but nothing too difficult. There are two signed trail junctions (JCT 1R and JCT 2R on the map). Stay right (follow the signs) at both traill junctions. This enjoyable hike follows along the base of the Superstition mountain range. The scenery is sonoran desert, with all of our favorite desert cacti, including plenty of Saguaro. There is not much elevation change so the hike goes pretty quickly. This is a nice introduction hike to the Superstition wilderness.
Map