Wind Cave (Usery mountain park)
Hot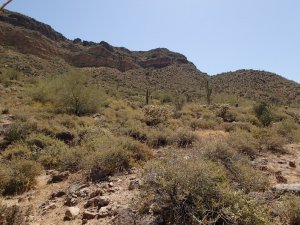 Location
How to Get There
This hike is located near Mesa, AZ.

From the Phoenix area, take US-60 East to the Ellsworth Road Exit. Go North on Ellsworth Road. After passing McKellips Road, Ellsworth Road turns into Usery Pass Road. Follow this road about two miles to the entrance of the Usery Mountain Recreation Area. Turn right to enter the park. After you have paid your entrance fee ($6 as of April 2013), follow Usery Park Road to Wind Cave Drive. Parking can get crowded on weekends.
Region
Phoenix Area and Central Arizona
Hike details
Distance
3.20 [Miles] Total
Hike Distance- Details
1.6 miles to the Wind Cave.
Time-details
It took us 45 minutes to reach the Wind Cave.
Elevation Change
600 Total gain/loss [Feet]
Elevation Details
about 600 ft gain.
Hike Trail Type
Out and Back
Season
Best Season
January
February
March
October
November
December
Date Hike completed
April 23, 2013
Solitudue
Solitude Details
This is not the hike for those seeking solitude. This area is extremely popular during weekends and holidays. Expect to meet 100-200 other hikers.
Difficulty
difficulty detail
It's not a difficult climb and the views are good. The problem with this hike is you have to share it with several hundred other people. This is an easy hike.
Permits
Be Aware of
Crowds, fee to enter the park ($6 as of April 2013)
Hike to the Wind Cave in Usery Mountain park in Arizona.
This trail is well marked and just North of the East Valley. These two facts make it a very popular trail on weekends. Unless you get to the trailhead really early, you will likely have to walk a bit to get to the trailhead. No big deal, after all, that's why you are out here anyway. 
There are two trails at this area. The Pass Mountain trail circles the mountain, while the Wind Cave trail hikes up it's face. Take the Wind Cave trail route.
Since there is a large number of people with all different abilities, remember your hiking etiquette. Yield to those people going uphill. Let faster hikers pass you. 
Dogs are allowed but must remain on a leash.  The hike is pleasant and not very difficult. After walking through the desert for a while, the trail starts upward with a series of switchbacks as you climb out of the parking area. The views of the parking area and the east valley make themselves visible as you climb higher. 
Once you reach the wind cave, take a look around and enjoy the view. If you are still restless and have advanced hiking ability, perhaps you want to check out the mysterious route to the summit.
When you are finished snapping pictures and eating lunch, return the way you came.
Secret summit route from Wind Cave:
This un-maintained trail starts just to the right of the wind cave. There are some signs that mark this trail that state, "The trail ends here" and "Past this point is not maintained". If you go beyond those signs, you will notice the trail continues.
Leave the crowds behind as your hike quickly goes from populated to deserted. As the sign said, this trail is not maintained, so finding the route to the top can be tricky. Some nice hikers have tied red ribbon to the bushes overhanging the trail to help you find your way, but it can be difficult to spot them. There are also some hikers who have painted arrows on rocks to mark a trail.  There are several routes to the top. If you loose the trail and have the skills, you can always go cross country and make your own route.
Expect to do a little scrambling, as this trail is steeper than the maintained trail to the Wind Cave. After another 15 minutes and 300 ft additional elevation gain, you will eventually make it to the top. You can see the Four Peaks, Superstition Mountains, and the east valley from up here. Plus, you don't have to share the views with anyone else.
When I was up here in January of 2002, there was a little Budda statue sharing the view with me. I think he was contemplating the hike down. Best to leave him to his meditation.
There were also a colony of bees that had made it's home in a crack in the rock. Give them some distance just to be safe (no pun intended).
Map