Willow Springs Lake Trail
Hot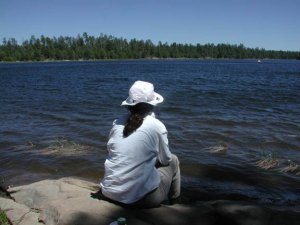 Location
How to Get There
This hike is located near Payson, AZ.

To get to the trailhead: from the Phoenix area, take HWY-87 North toward Payson. Once in Payson, take HWY-260 East towards Heber. After 32 miles of driving, make a left at the signed FR149 towards Willow Springs Lake. It's about 1 mile to the lake.

Hike details
Distance
6.70 [Miles] Total
Hike Distance- Details
The loop around the lake is 6.7 miles.
Time-details
It took us four hours, but we also stopped to fish for a while.

Elevation Change
0 Total gain/loss [Feet]
Elevation Details
nothing to speak of.
Season
Date Hike completed
June 11, 2005
Solitudue
Solitude Details
This is a very popular place to fish and relax. Areas close to the parking lot are very popular. There is more solitude on the other side of the lake so I'd recommend heading there at your earliest opportunity.
Difficulty
difficulty detail
30 yr old Recommendation: Bring your fishing pole. This is a moderate difficulty hike due to the route finding to stay on trail.
Permits
Be Aware of
The trail can be a bit rocky and route finding is necessary to stay on the trail.
Loop hike around Willow Springs Lake using the Willow Springs Lake trail in Arizona.
The Willow Springs Lake is one several very popular fishing lakes along the Mogollon rim. The 6.7 mile loop trail is mostly a fishing trail so those with a rod and reel can access the entire parameter of the lake. Luckily for us hikers, it is also a pleasant walk.
The trail starts from the parking area. The trail is not signed and can be tricky to follow. There was a good amount of dead fall and pine needles hiding the trail much of the time. Thankfully, if you get confused, you can always just follow the edge of the lake. Most of the lazy car people will stay close to the parking area, so the further you walk, the more you can enjoy this lake without an audience. If you are confused about where the trail is, the first half of the trail is marked by blue ribbons, while the second half of the trail is marked by red ribbons. Sometimes the trail hugs close to the shore and other times it is a bit of distance from the lake.
Be sure to bring a fishing pole and enjoy this pretty area.
Map