Tanner Trail
Hot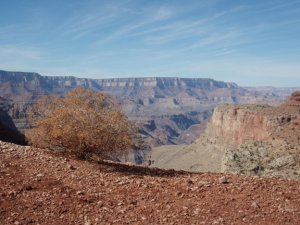 Location
How to Get There
This hike is located on the South Rim of the Grand Canyon.

From Flagstaff, take HWY 180 north towards the Grand Canyon. Once you enter the park, you'll head east on the East Rim Drive. Take the East Rim drive about 19 miles to the signed Lipan point lookout. Parking is available at the lookout and the trailhead is well signed and easy to find. Unfortunately, there are no services (ie: Bathrooms or water) at the trailhead.
Region
Grand Canyon and Marble Canyon area
Hike details
Distance
15.00 [Miles] Total
Hike Distance- Details
7.5 miles one way to the Colorado river.
Time-details
It took us about 6 hours down and about 7 hours up. We were going a bit slow, as we had a straggler on our team. We also took some long breaks (1 hour) for lunch. Including the "rest day" it was a 3 day trip.
Elevation Change
10,000 Total gain/loss [Feet]
Elevation Loss
5,000 Total Elevation Loss[Feet]
Elevation Details
A monster 5000 ft !
Hike Trail Type
Out and Back
Season
Best Season
March
April
September
October
Season Details
Spring or Fall. Do not take this hike in the summer, it is way too exposed. (SPECIAL CONSIDERATIONS FOR WINTER AND SUMMER TIMES!)
Date Hike completed
October 11, 2008
Solitudue
Solitude Details
Excellent, especially when compared to the corridor trails (Bright angel and South Kaibab). Only three groups are allowed to camp and hike on this trail (by permit). We only saw one other hiker on the way down and a mere handful on the hike out.
Difficulty
difficulty detail
If you are hiking downhill with a full pack, this hike is Strenuous. If you are hiking uphill, this is a Death March. A 5000 ft elevation gain will get your attention... trust me! This is one of the most open trails in the Grand Canyon, and as such the views are tremendous. It is a great choice for pushing the limits of your backpacking ability in a remote wilderness.
Permits
Permit Info
Backcountry permits from the National Park Service must be acquired prior to this hike. See www.nps.gov for details. You can reserve up to three months in advance.
Be Aware of
Outrageous elevation changes, extreme temperature changes. Lack of H2O. If you are camping (and you had better be, this is NOT a day hike) you need a back country permit from Grand Canyon National Park.

SPECIAL CONSIDERATIONS FOR WINTER AND SUMMER TIMES:

, For Winter Hiking: Remember that the South Rim is damned cold in the winter. Snow and Ice will cover the trail for the first few miles. Crampons are recommended.

, For Summer Hiking: Get an early start and don't hike during the heat of the day. Remember that the bottom of the canyon will be MUCH hotter than the top. Taking this trail in the summer is NOT recommended.
Hike and backpack the Tanner trail in Grand Canyon national park, Arizona.

Backcountry permits from the National Park Service must be acquired prior to this hike. See www.nps.gov for details. You can reserve up to three months in advance.
This trail is considered a threshold trail in the Grand Canyon. It is an un-maintained trail with no water until reaching the Colorado river. As such, it is only recommended for those who have some Grand Canyon hiking experience. After hiking this trail in the cool month of October, I can tell you with all sincerity not to consider hiking this trail any other time than Fall or Spring weather. Summer would be an absolute killer (real death!). This trail has very little shade. Even though the trail is un-maintained, it is easy to follow and requires little route finding skills.
From the Lipan point trailhead, the Tanner trail will quickly get your attention by descending 1700 ft in the first 1.25 miles. Steep is a redundant adjective when describing a Grand Canyon trail, and the Tanner trail is no exception. The bright side is you will likely have some shade on this section in the morning hours.
After this descent, the trail flattens out and even climbs a bit as you work your way towards the top of the redwall section and another steep descent. If you look at the map, there is a waypoint marked Jct 1. Here there is a very clear wall of rocks crossing the trail. To continue on the Tanner trail, you will start the redwall descent here by turning right. However, I would recommend dropping your packs and hiking the dead end trail 50 yards up the hill to the magnificent inner Grand Canyon views. We spent nearly an hour here, resting and eating lunch before continuing.
At Jct 1 (the rock wall mentioned above) you will turn right and start the steep descent down the redwall. After a quick 1000 ft drop in less than a mile, once again the trail will let up a bit as you reach the bottom of the redwall and start the final walk to the Colorado.
When you finally reach the beach, there are a number of good campsites. Go left if you want a campsite close to the river, while right is recommended if you want a shady campsite. There is also a pit toilet here.
After a good night's sleep, we took a day hike to the Unkar ruin and a great overlook of the Unkar rapid. It's well worth the 3 mile one way walk.
Hopefully you have a few days to enjoy at the beach before starting the grueling hike back out. Once you finally reach Lipan point, you will feel that unique sense of accomplishment that accompanies a successful Grand Canyon hike.
Map