Soap Creek
Hot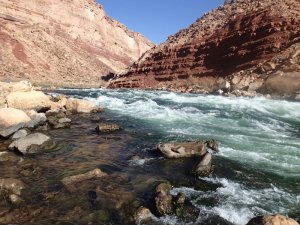 Location
How to Get There
This hike is located in the North East corner of Arizona, North West of the Navajo bridge crossing.

From Flagstaff, take US Highway 89 toward Page, AZ and then turn onto 89A toward Jacob's Lake, AZ. After crossing the Colorado River at Navajo Bridge, the BLM parking lot is near mile marker 548 and near the town of Cliff Dwellers, AZ. Follow the signed dirt road through a gate (please close it behind you). The trailhead is about 1/2 mile from 89A. From Flagstaff, the drive is about 2 hours.
Region
Grand Canyon and Marble Canyon area
Hike details
Distance
9.00 [Miles] Total
Hike Distance- Details
9 miles round trip.
Time-details
It took us five hours with a 40 minute stop at the river for lunch.
Elevation Change
2,000 Total gain/loss [Feet]
Elevation Loss
1,000 Total Elevation Loss[Feet]
Elevation Details
about 1000 ft decent to the river
Hike Trail Type
Out and Back
Season
Best Season
March
April
September
October
Worst Season
January
February
June
July
August
December
Season Details
We went on a mild day in April. Fall or Spring would be nice too.
Date Hike completed
April 01, 2003
Solitudue
Solitude Details
During the week, we were alone. During a weekend, we saw 8 other people.
Difficulty
difficulty detail
Danger, exposure, great destination, solitude, great hike!

This is for the young, or those of us that are still young at heart, in good shape, and have our life insurance paid up.
Permits
Be Aware of
Up to 70ft exposure on some of the narrow trails. Not a well marked trail. Flash flood danger
Hike Soap Creek near the Colorado River, Arizona

This was a very enjoyable hike through a canyon to the Colorado River. There are numerous points where you are not hiking, but scrambling and doing some mild climbing. There's some tricky route finding involved.... look for the helpful cairns when you're stumped. The start of the hike proceeds through a sandy wash but the walls quickly spring up around you and the scrambling begins. After 0.7 miles of hiking/scrambling you'll reach the South fork of soap creek. Turn left here (JCT_1L on the map) to continue down canyon. The walls grow higher and the canyon gets more scenic in this section. Most of the scrambling is in this section as well. Soon enough, the canyon flattens out and you'll be back on relatively flat ground most of the way to the Colorado river.
Soap Creek is one of the first rapids that river rafters hit when they start their trek down the Colorado River. We were lucky enough to see some brave rafters pick their way through the rapid. These were hearty folk, setting out on the 50 degree Colorado River in December!
Map